"Helping Young Athletes Achieve Their Potential: 10 Confidence Busters for Sports Kids"
Download the MP3 File and transcript below:
Enjoy your free bonus program — compliments of The Ultimate Sports Parent.
Thank You,
Patrick J. Cohn, Ph.D. & Lisa Cohn
© 2020 The Ultimate Sports Parent by Peak Performance Sports.
---
 Want More Confidence-Boosting Strategies?
The Confident Sports Kid: A 7-Day Plan for Building Ultimate Self-Confidence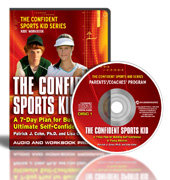 In this simple-to-follow workbook and CD program, young athletes and their parents/coaches learn about  strategies for improving confidence in sports, such as managing expectations, and other confidence-destroyers. The workbook and CD are user-friendly, as kids are guided step-by-step through the workbook and the 7 daily lessons. They even get a little help in answering questions in the exercises. Also included is a CD and manual for parents or coaches to help you understand the key concepts and strategies to boost your kids' confidence.
Two Audio CDs and Two Workbooks – $97.00 US