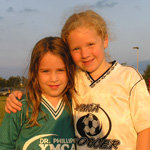 Bob, a dad from Portland, Ore., faces a classic sports parenting dilemma: His 8-year-old daughter, Rachel, played soccer for one season, and now wants to drop out. She says it's no fun for her because she's not as experienced as the other girls, who've been playing since kindergarten.
Bob wonders: Should he insist Rachel give soccer another try? Bob sees sports as a great opportunity for his daughter–who attends a private school–to spend some social time with the girls in her neighborhood who attend public school. He had urged her to join the team when a neighbor invited her to join.
Insisting that kids like Rachel play another season of soccer isn't a good idea. If kids play simply because their parents want them to play, they're engaging in "other-motivated" sports activities, which means they're staying on the team to satisfy their parents, rather than themselves.
Instead, parents need to ensure kids are motivated to play because they want to take part in sports. Parents can do this by making soccer, baseball or basketball fun. For example, Bob could play soccer or another sport with Rachel—and her friends—in a park. Kids this age love games like "red light, green light," and "sharks and minnows." Children enjoy it when parents or coaches integrate dribbling a ball into these kinds of games. It's possible Rachel will reap more enjoyment out of soccer if she takes part in sports in this informal fashion, and may be open to playing more often, even if it's just informally for now.
In addition, parents like Bob should talk to their children about the kids' concerns they're not as good as the other players. In this case, Rachel seems to want to be one of the better players on the team. Bob might encourage Rachel to focus more on the fun, and tell her making mistakes is all a part of learning; mistakes are natural and understandable.
In fact, you can impart this message while kicking a ball around with a child. Sports parents can make lots of mistakes and laugh at themselves, for example. Also, when their kids feel they make mistakes, parents should tell them it's okay; everyone commits blunders.
Not only do kids–like Rachel–refuse to play another season if they feel they're not "good enough." They'll often threaten to quit playing a game after making a mistake. One mom says that her 9-year-old daughter, after striking out in softball, will stomp, cry, throw her bat down, complain of injury, question referees' calls and mouth to her parents, "I don't want to play."
This girl clearly has set high goals for herself. On the one hand, that's good, because she's likely motivated to practice hard and improve. On the other hand, she becomes very upset—and threatens to quit playing–when she doesn't meet her own high expectations. Again, it's important for parents of these children to ensure they're not pressuring the kids to perform well. Moms and dads need to tell kids it's okay to be human; they're not expected to be perfect. These parents should be sure that all their feedback is positive. Negative feedback—"You shouldn't have swung at that pitch"—will likely increase a child's desire to be "perfect"—or the "best" on the team.
It's also important to tell the child that she should finish the game. It's not a good idea to have a child quit in the middle of a game. Instead, emphasize that the other kids depend on your child. Tell the child that mistakes are a natural part of learning sports.
Again, if sports parents can make athletics fun for kids and remind children they're only human, kids are more likely to "stay in the game"—for this season and many to come.
Dr. Patrick Cohn and Lisa Cohn are founders of The Ultimate Sports Parent. Listen to their radio show and download their free e-book, "Ten Tips to Improve Confidence and Success in Young Athletes," by visiting The Ultimate Sports Parent.