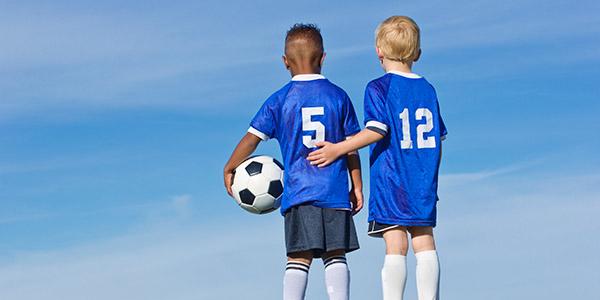 How Young Athletes Can Learn to Set Themselves up For Success
Parents and coaches, do your young athletes imagine failing, making mistakes or losing a game or competition?
Or do they visualize performing at well, succeeding or achieving a personal best?
Often, athletes imagine failing more often than succeeding. These negative images can float freely in their minds.
The problem with negative images: Kids are likely engaging in negative self-talk and experiencing unproductive emotions, which intensifies the negative images. As a result, kids might experience the results they fear.
These self-fulfilling prophecies can occur when kids talk themselves into negative outcomes. The negative images feel real. The negative emotions are intense.
In baseball, kids might vividly see themselves in the batter's box with the bases loaded in the ninth inning of a tied game. They can feel their shoulders tighten.
Kids might see their parents in the stands as they nervously look on. They can feel the pressure and see themselves being blown away by a baseball straight down the heart of the plate for strike three.
They might feel the disappointment of their teammates as they head back to the dugout. The frustration feels real.
In basketball, kids might feel the nerves associated with heading into the fourth quarter of a playoff basketball game. Vividly seeing themselves on the foul line with the opposing fans frantically waving their arms and yelling, "miss!"
They might feel their hearts pounding and the sweat pouring off their foreheads.
They might see themselves hitting the front end of the rim and missing the first foul shot–with their team trailing by two.
These strong images can set young athletes up for failure.
Instead, young athletes can set themselves up for success by actively producing positive images through visualization.
This involves taking an active role in consciously creating successful images, which can lead to a positive self-fulfilling prophecy. Visualization in sports is all about seeing the specific images of a successful outcome.
For example, kids might "experience" a base hit that scores the winning run or the ball swishing through the hoop to give their team a lead.
Visualization involves actively feeling positive emotions–confidence, calmness and joy–throughout the visualization.
It's all about actively creating a successful experience using all the senses. It's about experiencing in vivid detail, what kids want to happen and how they want to feel.
In an interview, 21-time NCAA All-American swimmer Erika Brown discussed the benefits of visualization and its contribution to her success.
"In practice we do a lot of video work and I love just looking at that, comparing it to other people, comparing it to my other swims and then using that to visualize for my races," she said, "I definitely use visualization before anytime that I race and just in life. I think it's important if you set goals and if you want to achieve something, you have to see yourself there."
When athletes visualize, they imprint positive images in their minds. This practice allows sports kids to train twice, once in physical practice and once in mental practice.
Often, visualization gives kids a boost in confidence because they have the ability to create and experience successful images.
The key to making visualization a successful, positive experience is to include all the senses.
To prepare to visualize, athletes should ask themselves:
* What would you see?
* What would your body feel like as you performed in the competition?
* What would you smell and taste?
* What sounds would you hear during the competition?
* What emotions would you experience?
Young athletes should visualize experiences that would take place at their existing skill level. They should not try to visualize experiences that they can't complete successfully in practice at least seven out of 10 times.
If kids can employ this technique, it can help them boost their performance and confidence. As coaches and parents, be sure to help them understand the advantages of visualization.
---
Related Articles for Young Athletes:
---
Help Kids in Sports Kick Perfectionism
Nearly every athlete struggles with some form of perfectionism or fear of failure. Kids who look like stars in practice will often choke up or under perform during games or competition.
Other athletes expect too much of themselves—then get frustrated when they don't meet their high expectations.
Or they're extremely hard on themselves. In all cases, this causes young athletes to play it safe. They refuse to take the important risks that help them excel and improve their confidence. Suddenly, they're held back by fear, indecision, and hesitation.
Sports parents and coaches who contact us are bewildered. They watch kids go through this cycle and feel as if they have no clue about how to help their kids.
In fact, rather than supporting their young athletes' mental game, they often pour salt in the wound, saying and doing things that cause their kids to freeze up even more and become more frustrated, more tense and less productive in sports.
There's nothing worse than helplessly watching your young athletes fall into the same negative pattern again and again—without knowing what to do about it! It's so frustrating to stand by while your physically talented athletes lose confidence, wondering how you can help them!
Then you try your best to help, only to discover you have made the problem worse. Your young athletes pressure themselves more, freeze up even more, lose their effectiveness and become more frustrated. They may even blame you for making them feel more pressured.
Now, you can learn how to help young athletes overcome the difficult cycle of perfectionism, fear of failure and loss of confidence. You can stop guessing about what to do and say to your athlete!
Our program: "Sports Parents' Top Dilemma: Helping Young Athletes Kick Perfectionism and Fear of Failure," will walk you through the problem and arm you with practical solutions you can start implementing today.
Makes your role as a sports parent more enjoyable and easier! We tell you how to help your young athletes:
Let go of mistakes more quickly
Accept feedback better
Stop criticizing themselves
Perform more freely
Think more creatively
Stop worrying about what others' think
Dramatically improve their performance and attitude in sports
Improve their confidence in sports
They, too, will have more fun and reap more rewards.
Read more or buy now at Peaksports.com: