Get Kids Moving to Avoid Obesity and Sickness
To ensure both their physical and mental health, kids need to get exercise and take part in outdoor play, says Dr. Dan O'Neill, an orthopedic surgeon, sports psychologist and author of "Survival of the Fit."
Twenty percent of kids are obese, and develop ailments such as diabetes, pre-diabetes and high cholesterol due to lack of exercise, he says. They're also suffering from anxiety and depression. These are adult ailments, and kids are getting them at young ages.
How can sports parents ensure their kids are healthy, confident and enjoy the benefits of sports?
O'Neill blames screen time and processed foods for the problems with kids' health. In general, children and teens spend too much time on the couch looking at screens or playing video games. And processed foods undermine their health, he says.
Especially during the pandemic, when kids are not participating in sports, it's okay to insist that they get some exercise, preferably outside, says O'Neill. They can walk, hike, bike, ski, skate or just play outside, he says. This improves both their physical and mental health.
Kids Should Work on Mental and Physical Skills During the Pandemic
Here at the Ultimate Sports Parent, we also recommend that during the pandemic, parents encourage kids to work on their mental and physical skills in preparation for playing sports again. They can set mental and physical goals and work on them outside or at home.
For example, they can focus on building their strength or they can concentrate on boosting their confidence.
Parents who are worried about the trend toward obesity and sickness can encourage kids to participate in sports. But O'Neill cautions that parents should do this in a way that ensures athletes enjoy sports, build their confidence and stay in sports for the long haul. He notes that 75% of kids drop out of sports by the time they're about 14.
"Sports parents, you folks have to be careful that you don't beat your kids out of their athletic identity. Kids drop out because of parents and coaches who mean well but are driving kids out of having fun."
O'Neill thinks that sports would be more rewarding for young athletes if teams were not associated with schools. Instead, he suggests that they be community-based.
"So many things in our schools have been tainted on a lot of levels by sports. We see an 'athlete and non athlete' divide in kids." Kids who don't make organized teams don't have many options for physical activity at their schools beyond organized sports. "A big part of the school budget goes to organized sports," he says.
That money should go instead to providing physical education programs so that more students can be active. That might include bike teams, winter sports, surfing, kayaking and swimming, among other activities, he says. It will also help kids in lower income families find ways to get moving.
In addition, O'Neill believes that kids should just spend time playing pick up games, organizing themselves. "They learn cooperation and flexibility and so much about themselves. They need to do it on their own. That's how they become cooperative adults," he says.
By following O'Neill's suggestions, parents can help their kids avoid the obesity trap, stay in sports for the long haul–and reap its many benefits.
---
Listen to the Ultimate Sports Parent Podcast
Help Your Young Athletes Succeed
In The Ultimate Sports Parent 14-day CD program, you and your young athlete will learn how to cultivate confidence, focus, and composure in sports! Improve your sports parenting skills with this program.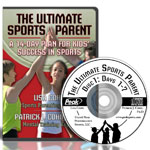 It's difficult for sports parents to watch their kids under-perform in sports and lose self-esteem due to fear, doubt and tentativeness. It's hard to stand idle and watch.
The solutions are not obvious. However, you, as a parent, can learn how to respond to your athletes' fears, doubts, and frustrations. You can develop happy, successful kids who are "mentally tough" in sports – and life!
A child or teen athlete may possess all the talent in the world. But if he can't "get his head in the game" and realize his potential, his performance will suffer and he will be unhappy.
---
What are Parents and Coaches saying?
"The Ultimate Sports Parent program is well designed to help parents and athletes come to terms with developing well rounded student athletes. This workbook will help give athletes and parents the competitive edge."
~Mike Maveus, athlete & youth sports coach
"I just listened to The Ultimate Sports Parent CD program on a drive back from North Carolina. Every parent should be required to listen to it! I thought it was great." Thank you."
~Rita, Sports Parent
"Dr. Patrick Cohn and Lisa Cohn are to be congratulated! Together, they offer a wealth of knowledge, information, and practical mental tools for sports parents on the substantial "mental game" challenges and pressures facing today's young athletes."
~Marc D. Anderson, LCSW, MGCP, Mental Game Coach