Helping Young Athletes Deal with Social Approval
Many young athletes worry too much about what others think of them. These athletes worry that teammates, coaches, parents and friends might think badly of them.
People who worry about what others think are struggling with social approval challenges.
Kids who think this way want to be admired, accepted, respected or liked by other athletes, coaches or teammates. Part of this is just human nature, but beware: Seeking social approval can become a confidence killer for young athletes.
Athletes who worry about what others think engage in a process called "mind reading." They make unfounded assumptions about what others think of them.
When kids are sure others believe they are not performing well, it can undermine their confidence.
Truth is, kids can't read others' minds. The only way to know what's inside people's heads is to hear them say what's on their minds.
A ball player recently told us that he thinks about what the coach is thinking about him. He believes the coach thinks he's throwing too many balls. He thinks the coach will take him out of the game.
Young athletes need to understand that this type of mind reading kills confidence.
Athletes mind read into a lot of things that aren't based in reality. So how can they stop mind reading?
They should first be aware of who they're focusing on. Are they trying to read into the minds of coaches, parents, team mates or all of them?
Next, they need to identify some of their assumptions about others. Maybe they assume a team mate thinks they should be taken out of the game. Help them be aware of such thoughts, then cut those thoughts off. Help them refocus.
We worked with a volleyball player who said she thinks about what her parents are thinking while in the stands 40 percent of the time she's playing. This is a big confidence buster.
She doesn't have the mental energy to focus on what's going on on the court. Like other young athletes, she needs to learn how to recognize what's going on in her head and regroup so she's no longer distracted by such thoughts. She should focus on whatever she needs to do right now during the game to be successful.
Bottom line: Kids need to recognize and banish assumptions about what others are thinking about them.
---
Help Your Young Athletes Succeed
In The Ultimate Sports Parent 14-day CD program, you and your young athlete will learn how to cultivate confidence, focus, and composure in sports! Improve your sports parenting skills with this program.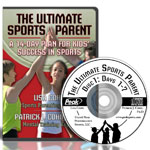 It's difficult for sports parents to watch their kids under-perform in sports and lose self-esteem due to fear, doubt and tentativeness. It's hard to stand idle and watch.
The solutions are not obvious. However, you, as a parent, can learn how to respond to your athletes' fears, doubts, and frustrations. You can develop happy, successful kids who are "mentally tough" in sports – and life!
A child or teen athlete may possess all the talent in the world. But if he can't "get his head in the game" and realize his potential, his performance will suffer and he will be unhappy.
---
What are Parents and Coaches saying?
"The Ultimate Sports Parent program is well designed to help parents and athletes come to terms with developing well rounded student athletes. This workbook will help give athletes and parents the competitive edge."
~Mike Maveus, athlete & youth sports coach
"I just listened to The Ultimate Sports Parent CD program on a drive back from North Carolina. Every parent should be required to listen to it! I thought it was great." Thank you."
~Rita, Sports Parent
"Dr. Patrick Cohn and Lisa Cohn are to be congratulated! Together, they offer a wealth of knowledge, information, and practical mental tools for sports parents on the substantial "mental game" challenges and pressures facing today's young athletes."
~Marc D. Anderson, LCSW, MGCP, Mental Game Coach