How to Boost Young Athletes' Communication and Cooperation
Chasta Hamilton, author of "Trash The Trophies: How To Win Without Losing Your Soul," was seeing red flags in her dance studio.
The owner and artistic director of Stage Door Dance Productions thought that the often expensive "pay to play" dance scene was creating too many expectations about winning trophies. She saw dance studios performing routines that were seen as "winners" simply so they could win competitions.
She took a step back and re-invented her dance program to focus on boosting kids' social skills, collaborating and giving back to the community.
For example, before this shift, the students had a hard time looking each other in the eye or introducing themselves to others…
They practiced these skills at a leadership lab created by Hamilton. They also started dancing at senior centers, hospitals and festivals. Young dancers participated in fundraisers for the philanthropy shows, and had to learn how to give possible donors "elevator pitches."
This focus, she says, reaped a "return on investment" for the dancers and their parents. This type of focus can yield benefits for kids who participate in any extracurricular activity, she stresses.
"Before we made this shift, I was noticing students had trouble looking others in the eye or standing up and introducing themselves."
But she saw a boost in the dancers' confidence after they started focusing more on community and working together. In these efforts, one of Hamilton's most important goals is focusing on the process, not the product.
"We are constantly talking about process over end product. If you have process, product happens," she says. Rather than focusing on winning competitions, they concentrated on building people skills and community.
Hamilton says that the dance program, with its fundraisers, focus on collaboration and philanthropy shows became "the heart of the community."
She believes that teams involved in any sport can follow this example and learn better communication and cooperation skills. They can also develop pride in contributing to the larger community. And all of that, she says, builds confidence in and out of sports.
Listen to the Ultimate Sports Parent Podcast
---
Help Your Young Athletes Succeed
In The Ultimate Sports Parent 14-day CD program, you and your young athlete will learn how to cultivate confidence, focus, and composure in sports! Improve your sports parenting skills with this program.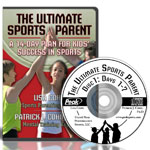 It's difficult for sports parents to watch their kids under-perform in sports and lose self-esteem due to fear, doubt and tentativeness. It's hard to stand idle and watch.
The solutions are not obvious. However, you, as a parent, can learn how to respond to your athletes' fears, doubts, and frustrations. You can develop happy, successful kids who are "mentally tough" in sports – and life!
A child or teen athlete may possess all the talent in the world. But if he can't "get his head in the game" and realize his potential, his performance will suffer and he will be unhappy.
---
What are Parents and Coaches saying?
"The Ultimate Sports Parent program is well designed to help parents and athletes come to terms with developing well rounded student athletes. This workbook will help give athletes and parents the competitive edge."
~Mike Maveus, athlete & youth sports coach
"I just listened to The Ultimate Sports Parent CD program on a drive back from North Carolina. Every parent should be required to listen to it! I thought it was great." Thank you."
~Rita, Sports Parent
"Dr. Patrick Cohn and Lisa Cohn are to be congratulated! Together, they offer a wealth of knowledge, information, and practical mental tools for sports parents on the substantial "mental game" challenges and pressures facing today's young athletes."
~Marc D. Anderson, LCSW, MGCP, Mental Game Coach