Do Your Athletes Do Well in Poor Weather?
When the weather outside is rainy, snowy, cold or windy, it can be difficult for young athletes to stay focused.
For example, young tennis players often feel their mental game sink during hot temperatures, and they're distracted early in the competition.
Some football players dread playing games in cold weather. Golfers may feel as if they can't putt well on wet greens. And sometimes soccer players are overly cautious when it's raining.
Sports kids need to understand that bad weather is 100 percent out of their control. They simply can't control field conditions, excessive temperature, humidity, precipitation or high winds.
Often, the player who succeeds when the weather is tough is the player who is mentally tough.
Not only should young athletes stay mentally tough in extreme weather. They need to use the bad weather to their advantage.
And how can they do that?
The key is retaining a positive mindset. Other players, including opponents, will often psych themselves out when the weather is wet, cold or windy.
These athletes might tell themselves, "Today is going to stink. The weather is nasty and it is only going to get worse." They have a poor mental game attitude even before they start competing.
If kids understand that most athletes dislike competing in bad weather, but these kids continue to be positive, they gain an advantage.
Kids should tell themselves, "No matter how challenging the weather is, I will give 100 percent effort and focus." They should tell themselves, "I love competing in these conditions." They should think that bad weather is simply an inconvenience. And if they do this, they'll have an edge over their competition.
Kids should set the tone early in a competition. From warm-up onward, young athletes need to tell themselves that nothing will get in the way of going all out on every play.
During a New England Patriots vs. Dallas Cowboys game in the middle of the 2019 season, conditions were very challenging. Players had to endure frigid temperatures, a frozen ground, a wet and slick field, gusty winds and a wet ball.
The conditions were the same for both teams, but the Patriots displayed a mentally tough mentality. The game ended with a 13-9 victory.
In a post-game interview, New England Patriots free safety Devin McCourty talked about the Patriots' mindset heading into the game.
"Any time we play in any type of [bad] weather game, we don't budge, cause when we come in here on a Wednesday, Thursday or Friday [practice], [Head Coach Bill Belichick] stands up here and he says whatever the weather is, get your stuff and put it on because we're in it," he said.
"So we practice in all this. We've had rain days, really cold days. So when we get dressed and we get ready to go out there, our mentality doesn't change. We are out there to play football and try to dominate. And I think everyone has that mentality as a group. So I think it enables us to go out there and execute and try to play at a high level."
That attitude gave the Patriots a clear edge.
Kids should embrace the challenge of playing in tough conditions. They should practice playing in these conditions. They will gain the mental edge over the competition, especially when competitors are frustrated with rain, wind, hail and sleet.
Young athletes need to reframe their thinking about the challenge. What can they love about playing in tough conditions?
---
Help Your Young Athletes Succeed
In The Ultimate Sports Parent 14-day CD program, you and your young athlete will learn how to cultivate confidence, focus, and composure in sports! Improve your sports parenting skills with this program.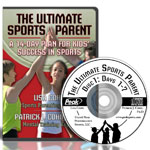 It's difficult for sports parents to watch their kids under-perform in sports and lose self-esteem due to fear, doubt and tentativeness. It's hard to stand idle and watch.
The solutions are not obvious. However, you, as a parent, can learn how to respond to your athletes' fears, doubts, and frustrations. You can develop happy, successful kids who are "mentally tough" in sports – and life!
A child or teen athlete may possess all the talent in the world. But if he can't "get his head in the game" and realize his potential, his performance will suffer and he will be unhappy.
---
What are Parents and Coaches saying?
"The Ultimate Sports Parent program is well designed to help parents and athletes come to terms with developing well rounded student athletes. This workbook will help give athletes and parents the competitive edge."
~Mike Maveus, athlete & youth sports coach
"I just listened to The Ultimate Sports Parent CD program on a drive back from North Carolina. Every parent should be required to listen to it! I thought it was great." Thank you."
~Rita, Sports Parent
"Dr. Patrick Cohn and Lisa Cohn are to be congratulated! Together, they offer a wealth of knowledge, information, and practical mental tools for sports parents on the substantial "mental game" challenges and pressures facing today's young athletes."
~Marc D. Anderson, LCSW, MGCP, Mental Game Coach