How Expectations Hinder Confidence
Perfectionists tend to have more confidence in practice than they do in competition. They also harbor what's called fragile confidence.
Fragile confidence means that athletes' confidence rises and falls depending on how they are performing at the moment. At its worst, fragile confidence can increase and decrease with every play or shot.
If kids have been practicing for many years, why do they struggle with confidence?
It's due in part to expectations. Perfectionist kids often have very high expectations. When they don't meet these expectations, they start to doubt themselves. They also get frustrated. Doubt and expectations can hurt kids' confidence.
We know one perfectionist swimmer who doubts her confidence after a bad warmup. That's just one example of how quickly a perfectionist can feel her confidence sink.
During competitions and games, perfectionists also harbor doubts because they question whether they can win. They worry about their statistics. They focus on all the wrong issues.
As a result, their confidence can blow in the wind.
How can young perfectionists and other young athletes get off the confidence roller coaster?
How to Build Stable Confidence
Kids need to take the long view and pump up their confidence. They should remind themselves how long they've been playing, recall their best moments and focus on their strengths. It's not a good idea for them to compare themselves to other athletes. That can just sink their confidence and create more doubts.
Young athletes can even create a "confidence resume" that focuses on their strengths. Kids can review this resume before practice, warmups or games.
Sports kids should also focus on playing in the moment–not on the score, win or their stats.
Whether or not kids are perfectionists, they should focus on their strengths and think long-term. They shouldn't let every bad play or shot undermine their confidence.
---
Help Your Young Athletes Succeed
In The Ultimate Sports Parent 14-day CD program, you and your young athlete will learn how to cultivate confidence, focus, and composure in sports! Improve your sports parenting skills with this program.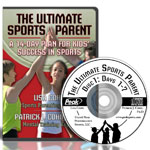 It's difficult for sports parents to watch their kids under-perform in sports and lose self-esteem due to fear, doubt and tentativeness. It's hard to stand idle and watch.
The solutions are not obvious. However, you, as a parent, can learn how to respond to your athletes' fears, doubts, and frustrations. You can develop happy, successful kids who are "mentally tough" in sports – and life!
A child or teen athlete may possess all the talent in the world. But if he can't "get his head in the game" and realize his potential, his performance will suffer and he will be unhappy.
---
What are Parents and Coaches saying?
"The Ultimate Sports Parent program is well designed to help parents and athletes come to terms with developing well rounded student athletes. This workbook will help give athletes and parents the competitive edge."
~Mike Maveus, athlete & youth sports coach
"I just listened to The Ultimate Sports Parent CD program on a drive back from North Carolina. Every parent should be required to listen to it! I thought it was great." Thank you."
~Rita, Sports Parent
"Dr. Patrick Cohn and Lisa Cohn are to be congratulated! Together, they offer a wealth of knowledge, information, and practical mental tools for sports parents on the substantial "mental game" challenges and pressures facing today's young athletes."
~Marc D. Anderson, LCSW, MGCP, Mental Game Coach