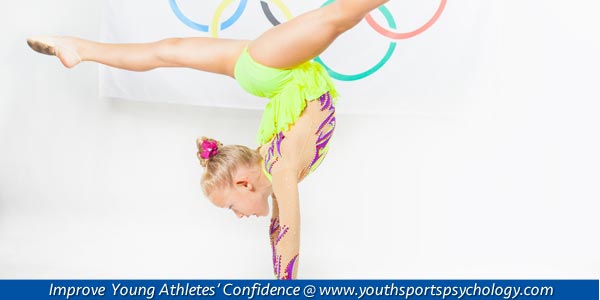 Superstitions in Youth Sports
Do your sports kids harbor silly beliefs about what makes them better athletes?
For example, do they insist on wearing a red-striped headband and on eating chocolate power bars before games?
This is common in young athletes, and can actually hurt their confidence and performance.
Why?
First of all, if they can't find their headband or power bars before a game, they think they're not going to perform well.
Second, they need to understand that confidence comes from within-and that they have control of it.
To help sports kids who hang onto goofy beliefs or superstitions, begin by helping them identify these beliefs. Explain why such ideas may not improve their performance or mental game.
Next, ask your young athletes to replace such ideas with more positive ones that actually build their confidence. The idea is to help them change the way they think so they can feel more confident.
For example, if your players tell themselves, "I only win if I wear my red-striped headband," suggest that they think instead, "I'm a great offensive player and communicate well with my teammates. I don't need such superstitions."
You could also suggest that your sports kids create a confidence resume. This includes all their positive qualities and also their achievements in sports. They can review their confidence resume before games to help give them a boost.
Want to learn more about the importance of ensuring that confidence comes from within-and how to help sports kids develop confidence?
Check out our book/CD program, "The Confident Sports Kid: A 7-Day Plan for Building Self-Confidence in Young Athletes," here:
The Confident Sports Kid – CD and Workbook Program
The program includes a CD/workbook for kids and another CD/manual for adults and is packed with strategies for overcoming common confidence busters and improving performance.
What do sports parents say about our resources?
"I felt bad about yelling at my daughter on the way home and that was the moment I decided there must be a better way to handle this. I got online, did some searching and found your sites. We just completed the first ten step stuff, it has helped tremendously for her and us. We've learned to keep our behavior and comments in check… She's playing more aggressively all game. Her coach even mentioned that whatever we are doing, keep doing because it's working."
~Sports mom
Help your sports kids boost their confidence and enjoy sports!
---
Help Your Young Athletes Overcome Self-Doubt In Sports!

The Confident Sports Kid helps young athletes improve confidence quickly and overcome common confidence killers that destroy motivation and fun in sports!
This is a 7-day program for sports parents and kids to boost young athletes' performance, happiness and success… in sports and life!
The Confident Sports Kid program is actually two programs: one that teaches sports parents how to boost their kids' confidence, and another that teaches young athletes age 8 to 12 how to improve their self talk, avoid negative thinking, overcome expectations that limit confidence, and much more.
Read more about The Confident Sports Kid
What are parents and coaches saying?
"I just wanted to say thank you for your wonderful programs. My son Kai was one of the fastest 10 and under swimmers in Southern California and after he "aged up" to the 11-12 group he really lost confidence swimming against the much faster and bigger boys. He started with the Confident Sports Kids series and really enjoyed each and every lesson. He then started the Composed Kid series and built on the important building blocks that he was using from the first series. I so happy to report that Kai was able to swim to best times in each and every event he swam at the biggest and most important meet of the year in So Cal, the Club Championships. Each race he was more calm, composed, and relaxed. The final race was one that he was ranked last and one of his goals was to try for top 16…he was 49th! He cut over 4 seconds off his time ending up in 17th. He was ecstatic to say the least."
~DD Bartley
---
Help Young Athletes Overcome Perfectionist Challenges in Sports!
Sports Parents' Top Dilemma: Helping Young Athletes Kick Perfectionism And Fear of Failure will walk you through the problem and arm you with practical solutions.
The Sports Parents' Top Dilemma is a two part program. It includes:
A 23 page E-book that identifies the challenge, explains why it is harmful to young athletes and gives step-by-stop sports psychology tips for helping kids.
A 21 page kids' sports psychology workbook that is intended to help you kids identify beliefs and expectations that are the root of perfectionism.
Now you can learn how to help young athletes overcome the difficult cycle of perfectionism, fear of failure and loss of confidence!
Sports Parents' Top Dilemma: Helping Young Athletes Kick Perfectionism And Fear of Failure
What are parents saying?
"After listening to a couple of your podcasts and reading your "10 tips to confidence in youth sports," most of the challenges you make note of apply to my 14-year-old son. He's got all the physical ability, but the more mistakes he makes, the worse it seems to get. So reading and listening to your information has been so helpful and validates what I have observed in him for the past few months. Thank you so much!"
~Brenda Felder, Everett, WA