How to Keep Athletes in the Game
A sports parent asks:
"My son is a HS freshman with huge potential in football but is not wanting to pursue it, he says he does not feel 'passionate' about it, even after being told by a few retired coaches and refs that he could definitely get a scholarship. He's saying that he doesn't want to play football now and I think he is wasting huge potential. I told him that he has to play at least one sport whether or not its football and should definitely reconsider football as good as he is, but he says he needs to get a job instead."
This question often comes up in youth sports. To parents, it often seems like a no-brainer that a talented child should stay in sports and not give up.
But it's important to remember that your feelings do not necessarily match the feelings of your young athletes.
And truth is, their talent is theirs–not yours. It's up to them to decide whether they want to quit.
However, before kids get to this point, there are many things you can do to prevent them from dropping out.
Young athletes don't want to feel pressure from parents, coaches, or refs.
While it's great for you to hear how talented your children are, it may be putting more pressure on your sports kids-pressure they don't want.
The key to keeping your talented young athletes in sports is to make sure they enjoy the experience more than feel too much pressure.
College scholarships and athletic potential are likely to not seem 'real' to your kids.
What is real to them is how sports make them feel, and with the added pressure of having to perform up to others' expectation, it may not feel fun at all.
Encourage your kids to have fun in sports. Don't mandate that they play sports. Remember back to when you were their age. You likely didn't enjoy mandates handed down by your parents.
Instead of having your kids focus on being the best or attaining certain achievements, have them focus on having fun with friends and learning new skills.
In this case, don't say, "But Coach said that you could get a scholarship!" Instead, say, "Think about all the fun you have playing with your friends."
A pressured sports kid is likely to stop being a sports kid entirely, so do whatever you can to take that pressure off.
If your kids want to quit because of lack of confidence, high frustration, or getting bullied by others, we can help. Contact us about personal mental game coaching
If your athlete simply lost the joy of sports and has no interest in engaging, then you don't want to demand that they play sports. You want them to participate for the right reasons, not to satisfy a parent.
Help your young athletes have fun and stay in the game!
Help Young Athletes Boost Confidence in Sports!
Do your young athletes: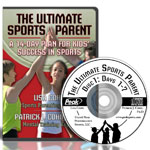 Criticize themselves often after making mistakes?
Lose confidence after working with a negative coach?
Freeze up and look scared when faced with competitive pressure?
Perform like stars in practice but freeze up or play tentatively during games or competitions?
If so, check out The Ultimate Sports Parent!
The Ultimate Sports Parent will teach you powerful mental toughness secrets to improve your child's success in sports.
What's in "The Ultimate Sports Parent: A 14-Day Plan for Kids' Success in Sports?"
DAY 1 – Positive Communication with Your Athlete
DAY 2 – Helping Your Athlete Establish Appropriate Goals
DAY 3 – Providing Positive Motivation for Your Young Athlete
DAY 4 – Instilling a Confident Mindset in Young Athletes
DAY 5 – Boosting Performance by Improving Your Child's Focus
DAY 6 – Helping Kids Stop Worrying About What Everyone Thinks
DAY 7 – Teaching Kids No One is Perfect
DAY 8 – Guiding Your Children as they Cope with Difficult Feelings
DAY 9 – Dealing with Kids' Difficult or Negative Coaches
DAY 10 – Helping Young Athletes Deal with Competitive Pressure
DAY 11 – Freeing Your Athletes to Trust Their Skills on Game Day
DAY 12 – Providing Athletes with Positive Support After Defeat
DAY 13 – Helping Your Child or Teen Cope with Little Playing Time
DAY 14 – Instilling a Competitive Edge in Your Young Athlete
Get proven strategies form leading youth sports experts!
The Ultimate Sports Parent: a 14-Day Plan For Kids' Success in Sports
What are sports parents saying about our mental training program?
"Ashley wanted me to let you know that she placed very well at her competition this past weekend, thanks to you! She won the short, won the long, and had her personal best. She now looks at her competitions like ice shows and has fun. It is really nice to see her thoroughly enjoying the skate. She is very focused and very confident. We definitely attribute this to you."*
~Brenda Glassco, Skating Parent
"I believe you have helped Bryan immensely and he will need your support throughout the season. I thank you for your work with Bryan. Despite what happens on the court, he is a more confident young man because of his work with you."*
~Donna Cambria, Bryan's mother