Do Your Athletes Have a Need to Impress Friends?
A young athlete asks:
"I'm a volleyball player on the same team for the third year in a row. We recently played another team which one of my best friends plays on, and I played great until she came in and everything went wrong. She had never seen me play and I made every possible mistake I could when usually I make very few. Is this because I was nervous or just not that good or because I started from a bad warm up?"
When young athletes play worse in front of certain people, be it a best friend, a family member, or anyone else, they are dealing with social approval challenges.
Your sports kids want people to approve of and admire their ability in sports, which creates pressure because they worry…
Your kids are distracted by the presence of these people and worried about what they may think of their performance.
This leads to the type of nervous, tentative play that can hurt their performance.
The first thing your young athletes must do is keep their focus on the game.
Remind them that whatever is happening in the stands is not relevant to the game.
Help your sports kids let go of what their friends might think about their performance.
Often your athletes are engaging in mind reading. They don't really know what others think of their games.
Remind them that the only way to play their best is to not care about what others think.
Point out the irony of this situation: their desire to impress their friends leads to an un-impressive performance!
When athletes are playing, it's a common challenge that they'll think about their friends in the stands.
Help them learn how to refocus as soon as possible.
As soon as they notice their attention has drifted, they should use the Three Rs of Refocusing.
The Tree R's of Refocusing include:
Recognize they're distracted
Regroup, or pull their attention away from the distraction
Refocus
That means getting back to focusing on the game. They should practice doing this until they can do it quickly.
Meanwhile, understand that if they make mistakes while their friends are watching, they may freeze up due to fear of failure.
In this case, they need to learn how to let go of mistakes and move on, trusting in their practice and in themselves.
Remind them that everyone makes mistakes; it's only human.
To learn more about how to overcome social approval challenges, be sure to check out our 10-Minute Pregame Prep program here:
Learn Mental Game Lessons to Help Young Athletes With Their Pregame Prep!
Young athletes and their parents and coaches tell us that sports kids often struggle with these pregame mental game challenges:
They feel pressure to excel from expectations they feel from others
They focus too much on the outcome instead of the process
They fail to take charge of their confidence before the compete
They don't trust in their skills when they go from practice to competition
They hang on to mistakes and dwell in them in competition
They worry too much about what others think about their performance
They tighten up and play safe when they feel pressure to succeed
They interpret pregame jitters as harmful to their performance
"10 Minute Pregame Prep" will tell you everything you need to know about ensuring your sports kids avoid classic mental game pitfalls before a game, learn how to trust their instincts, and just go for it. It provides lots of advice for you, too…
With our program, you can stop wondering what to do and relax before your kids' games!
Learn more about "10-Minute Pregame Prep"….
Don't forget to get your FREE download (located in the middle of the page) of Lesson 1 from the Parent's Manual!
Sign up for our free report to receive weekly emails and tips:
"10 Tips to Improve Confidence And Success in Young Athletes"
Help Young Athletes Boost Confidence in Sports!
Do your young athletes: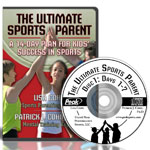 Criticize themselves often after making mistakes?
Lose confidence after working with a negative coach?
Freeze up and look scared when faced with competitive pressure?
Perform like stars in practice but freeze up or play tentatively during games or competitions?
If so, check out The Ultimate Sports Parent!
The Ultimate Sports Parent will teach you powerful mental toughness secrets to improve your child's success in sports.
Get proven strategies form leading youth sports experts!
The Ultimate Sports Parent: a 14-Day Plan For Kids' Success in Sports