Sports Specialization is Not Always a Good Thing
Christie Pearce Rampone, a two-time Women's World Cup champion, three-time Olympic gold medalist, and former captain of the US Women's National Soccer Team teamed up with sports neuropsychologist and brain health expert Dr. Kristine Keane to provide tips to sports parents.
The authors of "Be All In: Raising Kids for Success in Sports and Life," in a recent Ultimate Sports Parent Radio interview addressed topics that include alleviating youth sports pressures, dealing with perfectionists, helping kids learn from mistakes and why to avoid specialization.
One of their most important messages for sports parents: Pay attention to what you're saying to kids about sports on the sidelines and during the car ride home. The authors speak from experience: Both are sports moms.
"We like to educate parents about how kids develop their inner voice and critic, and how what parents say contributes to that," says Keane.
Parents should be aware of their individual children's personalities and relationships with sports, says Rampone. Some kids are more competitive than others.
"As a parent, you have to take a step back and be aware of how you are communicating with your child and what you truly want to get out of sports as a family," she says.
Another important issue: youth sports specialization. "The number one thing we are seeing is pressure to specialize in one sport and train all year round in one sport," says Keane.
When sports kids specialize, they lose free play, which limits their ability to decide which sports to play. Specialization also opens the door to overuse injuries, perfectionism and loss of social identity, she says.
"When you commit yourself to one sport at such a young age, you lose who you are as a person. You want to make sure you can take a step back and realize why you are playing that sport," says Rampone.
Playing different sports exposes young athletes to different perspectives and environments, which is good for them socially and good for their self-image. Often, kids who specialize have their whole identity wrapped up in sports.
---
Help Your Young Athletes Succeed
In The Ultimate Sports Parent 14-day CD program, you and your young athlete will learn how to cultivate confidence, focus, and composure in sports! Improve your sports parenting skills with this program.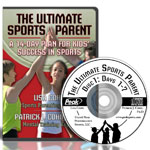 It's difficult for sports parents to watch their kids under-perform in sports and lose self-esteem due to fear, doubt and tentativeness. It's hard to stand idle and watch.
The solutions are not obvious. However, you, as a parent, can learn how to respond to your athletes' fears, doubts, and frustrations. You can develop happy, successful kids who are "mentally tough" in sports – and life!
A child or teen athlete may possess all the talent in the world. But if he can't "get his head in the game" and realize his potential, his performance will suffer and he will be unhappy.
---
What are Parents and Coaches saying?
"The Ultimate Sports Parent program is well designed to help parents and athletes come to terms with developing well rounded student athletes. This workbook will help give athletes and parents the competitive edge."
~Mike Maveus, athlete & youth sports coach
"I just listened to The Ultimate Sports Parent CD program on a drive back from North Carolina. Every parent should be required to listen to it! I thought it was great." Thank you."
~Rita, Sports Parent
"Dr. Patrick Cohn and Lisa Cohn are to be congratulated! Together, they offer a wealth of knowledge, information, and practical mental tools for sports parents on the substantial "mental game" challenges and pressures facing today's young athletes."
~Marc D. Anderson, LCSW, MGCP, Mental Game Coach