Fighting Perfectionism in Young Athletes
Do your young athletes only focus on mistakes after they compete? Do they criticize their performance instead of focusing on learning from their mistakes? Do they ignore what they did well?
If so, your sports kids are likely perfectionists. They tend to be hard on themselves after they compete, which undermines their confidence. Perfectionists focus on mistakes, goofs, and bad plays. They concentrate on what they should have done better.
These sports kids need to grow their confidence, instead of hurting it with high expectations. They need to stop judging their performance negatively and focus instead on how they can improve.
Young athletes should evaluate their performance in a way that's helpful, rather than destructive.
One of the top challenges for perfectionists is that they have high expectations and are very hard on themselves after competing. They only focus on what they have done wrong.
They critique their performance and take these negative thoughts home with them, sometimes thinking about their goofs for hours or all night. Instead, these kids need to grow their confidence from competition to competition. They should not beat themselves up.
If they don't perform up to their high expectations and only concentrate on missed opportunities and mistakes, their confidence will suffer.
Help kids combat perfectionism after a game. Ask them to think of two things they did well, mentally or physically. They should also think about two things they'd like to improve in the next competition. Their thoughts about improving should not be negative; they should not beat themselves up for making mistakes.
By focusing on how they can improve, they're adopting a "growth" approach to competing. Instead of telling themselves that they're terrible and can never improve, they should focus on ways they can learn and grow.
Keep in mind that they should complete this exercise in about a half-hour. Then it's time to move on–to school, homework, or other activities. They need to stop thinking about sports.
If you can help your young athletes adopt a growth mindset, you'll be doing them a big favor.
Instead of focusing on mistakes and telling themselves they'll never get better, they'll discover how to make the most of their mistakes, learn, and grow.
---
Help Your Young Athletes Succeed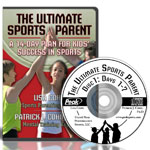 In The Ultimate Sports Parent 14-day CD program, you and your young athlete will learn how to cultivate confidence, focus, and composure in sports! Improve your sports parenting skills with this program.
It's difficult for sports parents to watch their kids under-perform in sports and lose self-esteem due to fear, doubt and tentativeness. It's hard to stand idle and watch.
The solutions are not obvious. However, you, as a parent, can learn how to respond to your athletes' fears, doubts, and frustrations. You can develop happy, successful kids who are "mentally tough" in sports – and life!
A child or teen athlete may possess all the talent in the world. But if he can't "get his head in the game" and realize his potential, his performance will suffer and he will be unhappy.
---
What are Parents and Coaches saying?
"The Ultimate Sports Parent program is well designed to help parents and athletes come to terms with developing well rounded student athletes. This workbook will help give athletes and parents the competitive edge."
~Mike Maveus, athlete & youth sports coach
"I just listened to The Ultimate Sports Parent CD program on a drive back from North Carolina. Every parent should be required to listen to it! I thought it was great." Thank you."
~Rita, Sports Parent
"Dr. Patrick Cohn and Lisa Cohn are to be congratulated! Together, they offer a wealth of knowledge, information, and practical mental tools for sports parents on the substantial "mental game" challenges and pressures facing today's young athletes."
~Marc D. Anderson, LCSW, MGCP, Mental Game Coach