Fear of Failure for Young Athletes
Elizabeth Pecsok, a coach at Oregon Gymnastics Academy (OGA), says coaching kids with special needs is all about helping them attain their personal goals and feel successful.
She provides one-on-one coaching to kids who have ADHD, autism, sensory challenges and other issues.
"I focus on what that child needs and what that child needs that day," she says. She concentrates on enforcing positive behaviors and ensuring the young gymnasts have a place to feel successful.
Pecsok tailors each lesson to the individual. "If they have certain goals they want to achieve, we focus on that. If they're there to have fun and just want to be physical, I just focus on having fun."
If the kids have fun, she says, they will feel successful.
Many of the special needs kids Pecsok works with are afraid of failing, afraid of trying new skills, or want to do things perfectly, she says.
"Kids don't want to do certain things, are afraid of failing, or are embarrassed easily," she says.
If her students are afraid of failing or trying something new, Pecsok tries to break the skill down into steps.
She also encourages kids to try things they're afraid of and congratulates them when they try to reach their goals.
And when kids say they did something that felt perfect to them–even if it's not technically perfect–Pecsok celebrates that feeling with the young athletes.
Her advice for parents: "Focus on the little victories I like to focus on fun. Tell them, `I really liked how brave you were today when you were doing cartwheels.'"
Listen to the entire podcast with Elizabeth Pecsok.
---
Help Young Athletes Boost Confidence in Sports!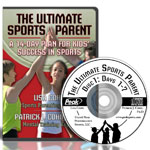 Do your young athletes:
Criticize themselves often after making mistakes?
Lose confidence after working with a negative coach?
Freeze up and look scared when faced with competitive pressure?
Perform like stars in practice but freeze up or play tentatively during games or competitions?
If so, check out The Ultimate Sports Parent!
The Ultimate Sports Parent will teach you powerful mental toughness secrets to improve your child's success in sports.
What's in "The Ultimate Sports Parent: A 14-Day Plan for Kids' Success in Sports?"
DAY 1 – Positive Communication with Your Athlete
DAY 2 – Helping Your Athlete Establish Appropriate Goals
DAY 3 – Providing Positive Motivation for Your Young Athlete
DAY 4 – Instilling a Confident Mindset in Young Athletes
DAY 5 – Boosting Performance by Improving Your Child's Focus
DAY 6 – Helping Kids Stop Worrying About What Everyone Thinks
DAY 7 – Teaching Kids No One is Perfect
DAY 8 – Guiding Your Children as they Cope with Difficult Feelings
DAY 9 – Dealing with Kids' Difficult or Negative Coaches
DAY 10 – Helping Young Athletes Deal with Competitive Pressure
DAY 11 – Freeing Your Athletes to Trust Their Skills on Game Day
DAY 12 – Providing Athletes with Positive Support After Defeat
DAY 13 – Helping Your Child or Teen Cope with Little Playing Time
DAY 14 – Instilling a Competitive Edge in Your Young Athlete
Get proven strategies form leading youth sports experts!
The Ultimate Sports Parent: a 14-Day Plan For Kids' Success in Sports
What are sports parents saying about our mental training program?
"The Ultimate Sports Parent Workbook Program totally changed our families approach to sports and I am so very grateful. My boys 7 and 10 are able to deal better with negative coaches, perform without fear, and focus way less results and focus better the process. One boy was amazingly able to regain composure and end the season with a positive attitude. I am on your web site all the time and am currently beginning The Confident Athlete series."
~Sarah Bateman, Sports Parent

"The Ultimate Sports Parent program is well designed to help parents and athletes come to terms with developing well rounded student athletes. This workbook will help give athletes and parents the competitive edge."
~Mike Maveus, athlete & youth sports coach