How to Encourage Sports Kids to Stay in Sports
It's important for sports parents to drop the sports fan mindset when watching their kids perform, said Bob Katz, a journalist, former sports dad and author of the kids' book "EZ and the Intangibles" in a recent interview.
"We are a nation of sports fans," said Katz. "We tend to be sports crazed."
Katz argues that the informality and fun integral to sports kids' learning is being eclipsed by intensity and criticism that should be postponed to much later in life.
"Eight- to 10-year-olds should not be encountering the sports world the way multi-million dollar superstars do, with that kind of criticism," says Katz.
Intense criticism and praise can cause sports kids to feel so much pressure they want to quit sports altogether. They may choose instead activities that they perceive as more fun.
To combat this trend, Katz encourages sports parents to work on becoming more self aware so they can identify and stop behaviors that undermine their kids' experience.
Here at Kids' Sports Psychology and the Ultimate Sports Parent, we agree that intense criticism and praise can undermine kids' confidence.
Instead of focusing so much on achievement, parents need to encourage kids to focus on the process–passing well, communicating with team mates, or being good defensive players. And parents should always encourage kids to have fun!
You can listen to the full interview with Bob Katz below:
---
Help Young Athletes Boost Confidence in Sports!
Do your young athletes: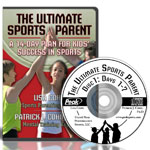 Criticize themselves often after making mistakes?
Lose confidence after working with a negative coach?
Freeze up and look scared when faced with competitive pressure?
Perform like stars in practice but freeze up or play tentatively during games or competitions?
If so, check out The Ultimate Sports Parent!
The Ultimate Sports Parent will teach you powerful mental toughness secrets to improve your child's success in sports.
What's in "The Ultimate Sports Parent: A 14-Day Plan for Kids' Success in Sports?"
DAY 1 – Positive Communication with Your Athlete
DAY 2 – Helping Your Athlete Establish Appropriate Goals
DAY 3 – Providing Positive Motivation for Your Young Athlete
DAY 4 – Instilling a Confident Mindset in Young Athletes
DAY 5 – Boosting Performance by Improving Your Child's Focus
DAY 6 – Helping Kids Stop Worrying About What Everyone Thinks
DAY 7 – Teaching Kids No One is Perfect
DAY 8 – Guiding Your Children as they Cope with Difficult Feelings
DAY 9 – Dealing with Kids' Difficult or Negative Coaches
DAY 10 – Helping Young Athletes Deal with Competitive Pressure
DAY 11 – Freeing Your Athletes to Trust Their Skills on Game Day
DAY 12 – Providing Athletes with Positive Support After Defeat
DAY 13 – Helping Your Child or Teen Cope with Little Playing Time
DAY 14 – Instilling a Competitive Edge in Your Young Athlete
Get proven strategies form leading youth sports experts!
The Ultimate Sports Parent: a 14-Day Plan For Kids' Success in Sports
What are sports parents saying about our mental training program?
"The Ultimate Sports Parent Workbook Program totally changed our families approach to sports and I am so very grateful. My boys 7 and 10 are able to deal better with negative coaches, perform without fear, and focus way less results and focus better the process. One boy was amazingly able to regain composure and end the season with a positive attitude. I am on your web site all the time and am currently beginning The Confident Athlete series."
~Sarah Bateman, Sports Parent

"The Ultimate Sports Parent program is well designed to help parents and athletes come to terms with developing well rounded student athletes. This workbook will help give athletes and parents the competitive edge."
~Mike Maveus, athlete & youth sports coach