A Dad's Frustration with His Athlete
A sports dad says that his 11-year-old daughter is an accomplished table tennis player in Australia who recently ranked second in the Junior State Championship for kids age 11 and under.
"Lots of parents and kids seem to have the impression she is good and are very keen on beating her," he writes.
The dad has purchased a number of kids' sports psychology programs to help his daughter boost her mental game.
But he struggles with his own issues as a sports parent: He's emotionally wrapped up in her wins and losses. He becomes frustrated when his daughter is not focusing and seems as if her confidence is dropping. When he tries to coach her, she's sometimes disrespectful, he says.
"I know a big part to blame…is my frustration and how to control that temper. I get annoyed when she disrespects me probably because she hates what I am saying and also sees me a bit angry," he says.
For two weeks, the dad tried to stay away from coaching her in club games, and says she has done well.
He's searching for a way to avoid bursting into anger.
"Say I am in the moment where she just does not think with her shots and I am frustrated already. Is there something I can do to remove that frustration and show her I am still happy even though I am not? I am guessing, I need to practice this on a daily basis…so I can do it in a real match," he says.
This dad understands that his frustration and anger aren't helping his daughter.
But he also needs to understand that his high expectations aren't benefiting his daughter, either. She's only 11 years old, and it's clear she's under a lot of pressure to perform well for him.
When parents harbor such high expectations for their kids, the children will often take those expectations on as their own.
They, too, will get frustrated if they can't meet high expectations they adopt from their parents. This can sink their confidence, cause undue pressure, and hurt their performance.
As parents, you want to model composure on the sidelines and after games. How do you expect your kids to stay composed when you can't as the parent?
---
The Ultimate Sports Parent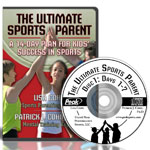 You can benefit from our 15-plus years' of work in sports psychology and sports parenting research. Now, you can tap into our secrets to sports success through a cutting-edge, 14-day program that helps young athletes overcome the top "mental game" challenges that sports parents face—and the top challenges young athletes face. In our 14-day program, you and your young athlete will learn just what it takes to cultivate confidence, focus, and composure in sports!
Through our extensive research, we've discovered that the parents of top-performing, happy, young athletes know how to support their kids in sports. These parents understand just how to:
Communicate with coaches
Boost their kids' confidence on game day
Help kids stop worrying about what others' think
Teach kids no one is perfect
Give kids appropriate feedback after defeat
Free kids to trust in their own abilities, and
Help kids focus on what's most important….
And more!