How to Communicate With Young Athletes
The words parents and coaches choose when communicating with young athletes can boost kids' confidence or deflate it, says Ganon Baker, a sports development coach who has worked with teams internationally and also played basketball in Iceland.
When talking to kids about a game, for example, he suggests the "sandwich" approach: Say something positive, give some constructive criticism, end with something positive.
"Words affect kids' confidence–whether they're from friends, parents or teammates," says Baker, who we recently interviewed for our Ultimate Sports Parent Radio podcast. The job of parents and coaches, he says, is to use words that are positive, specific and impactful.
"You have to be specific, keep their attention and don't break their heart or spirit," he adds. If a child's team loses a game, what do you say after the game? Nothing–unless the player asks for feedback. In that case, be sure to use the sandwich method of communicating. The tone coaches and parents choose is critical.
They need to remove emotion from constructive criticism and refrain from using "destructive" words like lazy and selfish, Baker says. "Always say, "I'm proud of you for trying and participating. I'm proud of you for trying to do your best'," Baker says.
In addition, don't be too wordy. Give short nuggets, sound bites and bullets when communicating. Be aware of the limits of kids' attention spans, he says. Coaches sometimes talk too much and don't listen enough, he says.
With the right words, tone and intentions, parents and coaches can have a big impact on kids' confidence–in sports and life, he says. Help your young athletes feel confident and happy in sports!
Listen to the entire podcast with Ganon Baker.
Help Your Young Athletes Succeed
In The Ultimate Sports Parent 14-day CD program, you and your young athlete will learn how to cultivate confidence, focus, and composure in sports! Improve your sports parenting skills with this program.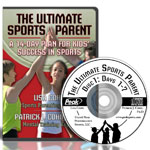 It's difficult for sports parents to watch their kids under-perform in sports and lose self-esteem due to fear, doubt and tentativeness. It's hard to stand idle and watch.
The solutions are not obvious. However, you, as a parent, can learn how to respond to your athletes' fears, doubts, and frustrations. You can develop happy, successful kids who are "mentally tough" in sports – and life!
A child or teen athlete may possess all the talent in the world. But if he can't "get his head in the game" and realize his potential, his performance will suffer and he will be unhappy.
---
What are Parents and Coaches saying?
"The Ultimate Sports Parent program is well designed to help parents and athletes come to terms with developing well rounded student athletes. This workbook will help give athletes and parents the competitive edge."
~Mike Maveus, athlete & youth sports coach
"I just listened to The Ultimate Sports Parent CD program on a drive back from North Carolina. Every parent should be required to listen to it! I thought it was great." Thank you."
~Rita, Sports Parent
"Dr. Patrick Cohn and Lisa Cohn are to be congratulated! Together, they offer a wealth of knowledge, information, and practical mental tools for sports parents on the substantial "mental game" challenges and pressures facing today's young athletes."
~Marc D. Anderson, LCSW, MGCP, Mental Game Coach