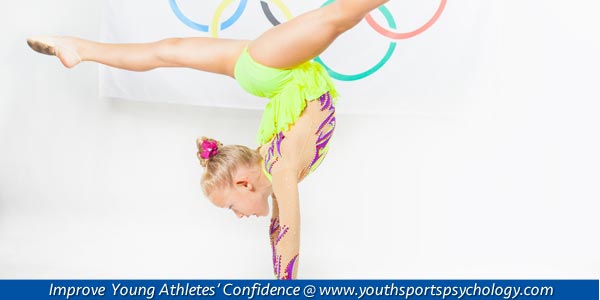 Sports Parents Mental Coaching
Jennifer sought our help with some tough challenges about her son, who just started playing tackle football:
"He lacks confidence because he's the smallest on the team. He doesn't respond appropriately to criticism. His confidence sinks when he feels as if he's not playing "perfectly."
We invited Jennifer to join us on "Sports Parents' Coach," a new live coaching program at Kid's Sports Psychology. We answer sports parents' questions about how to address such challenges.
Read on to learn about some of the important tips we gave Jennifer and to learn how you can take part in our new Sports Parents' Coach coaching program!
First, we listened to Jennifer's story and uncovered a few of the underlying issues that might be contributing to her son's lack of confidence…
For example, Jennifer's husband comes from a long line of gifted athletes and casts a pretty big shadow. As a result, the boy has adopted high expectations, and is trying to practice and perform perfectly.
First of all, we addressed the boy's lacking confidence because of his size and height. What do you tell a kid who's the shortest on his team?
Tell him he needs to take stock of and appreciate his talents and stop comparing himself to others. He should create a list of his positive attributes, which may include speed, teamwork, enthusiasm and leadership.
As for the boy's perfectionism, it's critical to make him feel comfortable making mistakes….
To borrow a Positive Coaching Alliance term, Jennifer and her husband need to tell their son to "flush" away his mistakes and move on. When he makes mistakes, they could simply make a "flushing" motion.
What other tips did we give Jennifer? We shared all of the tips we gave her with our members at Kids' Sports Psychology. If you are a member, you too can listen to the entire coaching session by visiting:
Kids' Sports Psychology
For the rest of October, if you become an exclusive member of Kids' Sports Psychology, we're offering you a special opportunity: you'll get a free coaching session just like Jennifer's.
The recording of your live coaching session (via teleconference) will be posted on Kids' Sports Psychology. Don't worry, we don't have to use your full name in the interview.
We have to limit this special coaching opportunity to 20 new members… So we suggest you "reserve" your live coaching today.
What do our readers and members say about our resources? Nearly each week, we receive a compliment about how we help sports kids make the most of their potential and help sports parents learn new skill.
"Love your emails!" was the compliment we received most recently.
Join Kids' Sports Psychology in October and get a free coaching session with us! This offer is only good until the end of the month or for the first 20 new members to enroll.
Reserve your coaching session today:
Join Kids' Sports Psychology
P.S. Receive a 20-minute live coaching session with us and have access to over 450 pages of mental game resources of young athletes and sports parents:
Join Kids' Sports Psychology
---
Help Young Athletes Boost Confidence in Sports!

Do your young athletes:
Criticize themselves often after making mistakes?
Freeze up and look scared when faced with competitive pressure?
Lose confidence after working with a negative coach?
Perform like stars in practice but freeze up or play tentatively during games or competitions?
If so, check out The Ultimate Sports Parent!
The Ultimate Sports Parent will teach you powerful mental toughness secrets to improve your child's success in sports.
Get proven strategies form leading youth sports experts!
The Ultimate Sports Parent: a 14-Day Plan For Kids' Success in Sports
What are sports parents saying?
"Performed without Fear and Focus on the Process"
"The Ultimate Sports Parent Workbook Program totally changed our families approach to sports and I am so very grateful. My boys 7 and 10 are able to deal better with negative coaches, perform without fear, and focus way less results and focus better the process. One boy was amazingly able to regain composure and end the season with a positive attitude. I am on your web site all the time and am currently beginning The Confident Athlete series."
~Sarah Bateman, Sports Parent
"Maintained Total Composure!"
"We have purchased all of your CD's, my child has gone through The Focused, Confident, Composed, and Fearless Athlete Programs. And I just listened to the Ultimate Sports Parent CD. I can't tell you enough how helpful these have been. My child just played in a major competition and he maintained total composure, fought in competition mode not training mode, was totally confident. THANK YOU! I really believe that God lead me to your web site."
~Sports Parent
---
Help Your Young Athletes Let Go of Mistakes and Cope With Frustration!
Do your sports kids throw tantrums, cry and/or lack emotional control in competition?
Do your sports kid shut down or act like the Incredible Hulk after they make just one mistake that no one notices?
Are you fed up with your young athletes' self-destructive behavior?
Check out: The Composed Sports Kid
The Composed Sports Kid system is 2 programs in one.
1 program to train parents and coaches how to help their kids practice composure
1 program that teaches young athletes (ages 8-12) how to improve composure, let go of mistakes quickly, have more self-acceptance and thus enjoy sports more!
The Composed Sports Kid: A 7-Day Plan For Helping young Athletes Cope With Frustration
What are parents and coaches saying?
"He Has Really Benefited From The Program"
"I recently purchased The Composed Sports Kid CD program for my son Jonathan who is 10. He is a skilled soccer player that was having issues with loss of control on occasion during games. He has really benefited from the program. He carries himself much better these days and even talks about his composure after the game to me before talking about the goals that he scores."
~Dave, Sports Parent

"Treasure Trove of Practical, Insightful Information"
"Kids' Sports Psychology is quite a find. It's a treasure trove of practical, insightful information presented in an organized, simple format that is so easy to use. It is exactly what I was looking for to help my daughter succeed in competition, as much as she succeeds during practice. Additionally, these concepts can be applied to all areas of her life and, as her parent, I can't stress enough how important it is to me, that she develop confidence, and how valuable this resource is to that end. Thank you so much!"
~Stephanie Dobbs