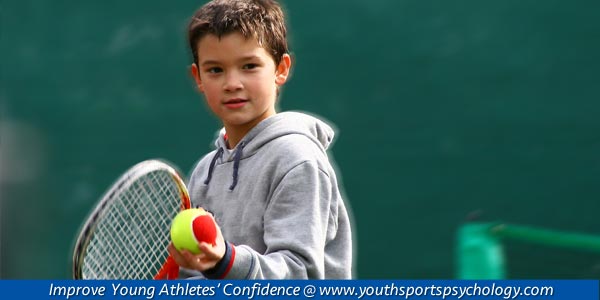 Help Your Athletes Get Mentally Prepared
Do your athletes know exactly how to mentally prepare for competition – so they can perform their best?
We think this is a super important area for young athletes and we'd love your feedback about your kids' pregame mindset…
Do your athletes:
Get tight or anxious before they compete?
Lack confidence before they start?
Worry about losing or scoring poorly?
Say they worry about letting down teammates or coach?
Fail to use pregame mental preparation altogether?
Get into arguments with you?
How can we help your athletes improve their pregame mental game preparation?
And what mental game no-nos do you make as a sports parent, such as arguing with your kids about game strategy?
Parents: whether you realize it or not, you have a big impact on your kids' pregame mindset.
We want to help you address your top challenges and teach your kids how to mentally prepare for competition.
Please take two minutes to give us your feedback:
Pregame Mistakes Kids Make Prior to Competition
We want to hear from you!
Create your own user feedback survey
The best way to improve consistency in performance is to help athletes improve their mental preparation prior to competition.
We'll share the survey results in the coming weeks and provide tips to help your kids' mentally prepare for sports.
Go here now:
Pregame Mistakes Kids Make Prior to Competition
---
Please Share Our Tips with Others
If you enjoy our mental game tips for sports parents and coaches of young athletes, please forward this post to other parents and coaches who you think would appreciate our tips:
Free eBook Instill Confidence in Young Athletes
---
Help Your Young Athletes Overcome Self-Doubt In Sports!

The Confident Sports Kid helps young athletes improve confidence quickly and overcome common confidence killers that destroy motivation and fun in sports!
This is a 7-day program for sports parents and kids to boost young athletes' performance, happiness and success… in sports and life!
The Confident Sports Kid program is actually two programs: one that teaches sports parents how to boost their kids' confidence, and another that teaches young athletes age 8 to 12 how to improve their self talk, avoid negative thinking, overcome expectations that limit confidence, and much more.
Read more about The Confident Sports Kid
What are parents and coaches saying?
"Each Race He Was More Calm, Composed, And Relaxed"
"I just wanted to say thank you for your wonderful programs. My son Kai was one of the fastest 10 and under swimmers in Southern California and after he "aged up" to the 11-12 group he really lost confidence swimming against the much faster and bigger boys. He started with the Confident Sports Kids series and really enjoyed each and every lesson. He then started the Composed Kid series and built on the important building blocks that he was using from the first series. I so happy to report that Kai was able to swim to best times in each and every event he swam at the biggest and most important meet of the year in So Cal, the Club Championships. Each race he was more calm, composed, and relaxed. The final race was one that he was ranked last and one of his goals was to try for top 16…he was 49th! He cut over 4 seconds off his time ending up in 17th. He was ecstatic to say the least."
~DD Bartley
---
Help Young Athletes Boost Confidence in Sports!

Do your young athletes:
Criticize themselves often after making mistakes?
Freeze up and look scared when faced with competitive pressure?
Lose confidence after working with a negative coach?
Perform like stars in practice but freeze up or play tentatively during games or competitions?
If so, check out The Ultimate Sports Parent!
The Ultimate Sports Parent will teach you powerful mental toughness secrets to improve your child's success in sports.
Get proven strategies form leading youth sports experts!
The Ultimate Sports Parent: a 14-Day Plan For Kids' Success in Sports
What are sports parents saying?
"Performed without Fear and Focus on the Process"
"The Ultimate Sports Parent Workbook Program totally changed our families approach to sports and I am so very grateful. My boys 7 and 10 are able to deal better with negative coaches, perform without fear, and focus way less results and focus better the process. One boy was amazingly able to regain composure and end the season with a positive attitude. I am on your web site all the time and am currently beginning The Confident Athlete series."
~Sarah Bateman, Sports Parent
"Maintained Total Composure!"
"We have purchased all of your CD's, my child has gone through The Focused, Confident, Composed, and Fearless Athlete Programs. And I just listened to the Ultimate Sports Parent CD. I can't tell you enough how helpful these have been. My child just played in a major competition and he maintained total composure, fought in competition mode not training mode, was totally confident. THANK YOU! I really believe that God lead me to your web site."
~Sports Parent